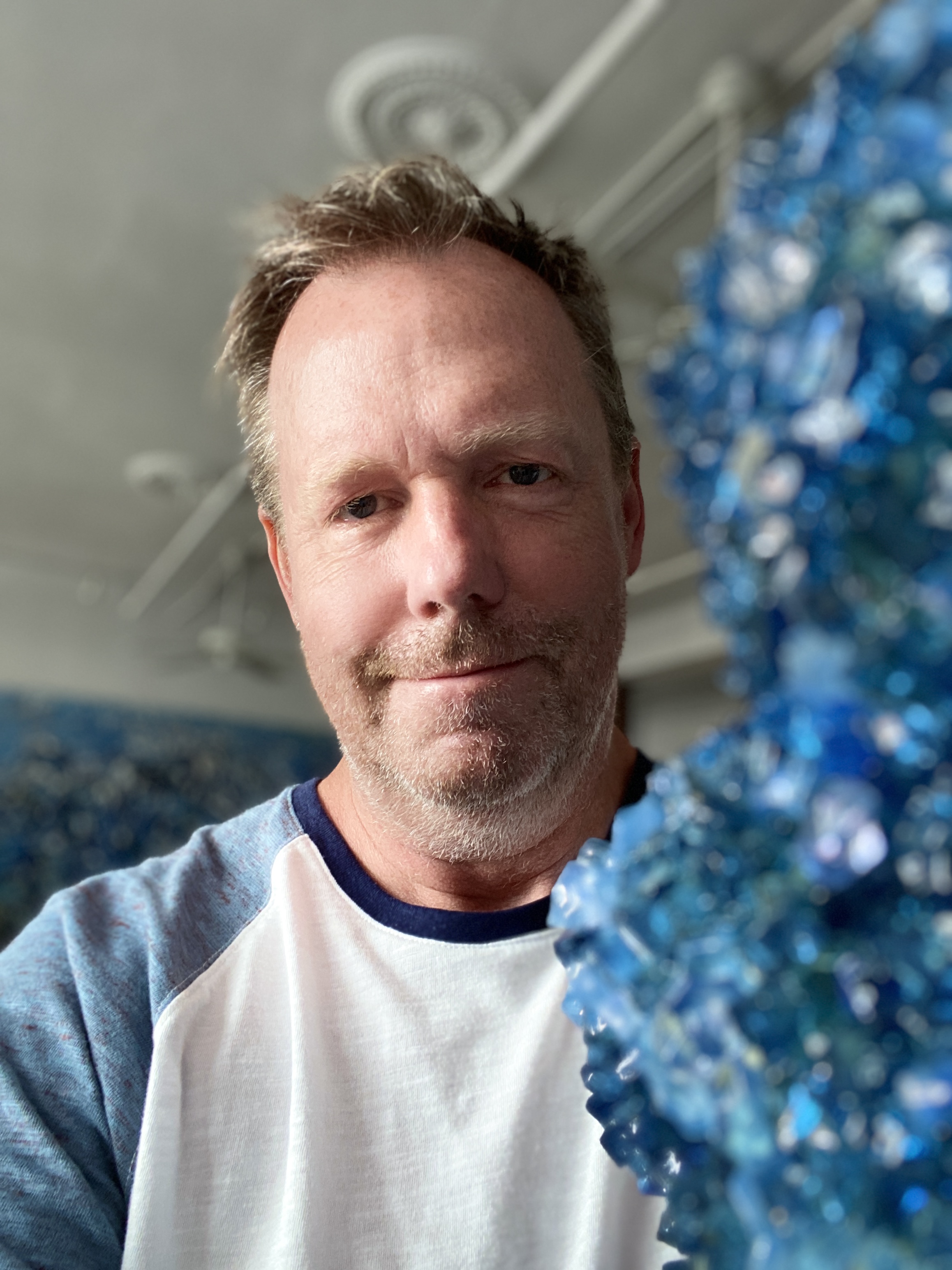 BRYAN CHADWICK
B. 1963, MONTREAL
University of Western Ontario, BA
Live and work in Soho, New York
Work spans painting, sculpture, constructions, film, video, photography, literature, and music
Largely self-taught
Kept work hidden or unattributed for the most part until July, 2020
STATEMENT
Picasso said artists do things to find out why they did them. That couldn't be more more true in my case. My art is my personal attempt to figure out and codify what is causing it to emerge.
Even at a very young age, I worried that the creative nudges I was getting —these strange and specific inspirations —were coming from a source outside of myself or, perhaps worse, a source inside, like a recessive gene set to go off in a particular individual at a particular time.
By about 14, I figured I must either be struggling with a form of mental illness or an extraordinary gift. I didn't know which was more frightening. So I keep it all secret.
What I knew was important, though, was to document everything I was experiencing in the "veiled languages" of art and music—hiding it in plain sight—so that, if I ever got the nudge to share my story, I'd have an accurate, honest, time-stamped way of expressing it.
All of this wants to culminate in a "multi-media codex" —a single work that combines visual art, original music, and a work of literary non-fiction. All three elements of this life work are at various stages of completion. The different series shared on this site form visual parts of that larger whole.
Ultimately, my work is about phenomenology, prescience, both aberrant and inspired salience, and what it's like to tread the alarmingly thin lines between giftedness and mental illness, spirituality and creativity.
ALTERNATIVE SPACE EXHIBITIONS
Els Quatre Gats, Barcelona, solo exhibtion, 1 month, 1993
"Night Drawings and Small Constructions" solo exhibtion, curated by Lili-Mari Andresen, Hotel Chateaux Verseilles, Montreal, 1996
"Cocoons" (unattributed) Bibliothec National De France, Paris, September 2006
"Cocoons" (unattributed) Bois de Boulogne, Paris, July 2005
"Cocoons" (unattributed) Pont Des Arts, Paris, June 2005
"Cocoons" (unattributed) Jardin De Luxumberg, Paris, September 2006
"Cocoons" (unattributed) Parc Monceaux, Paris, May 2005
"Cocoons" (unattributed) Pont Neuf, Paris, October 2005
"Cocoons" (unattributed) Musee D'Art Modern, Site De Creation Contemporaine, Paris, September 2006
"Cocoons" (unattributed) Chantilli, France, July 2005
"Cocoons" (unattributed) Chateaux De Sceaux, Seaux, France, June 2005
"Cocoons" (unattributed) Cathedral Sacre Coeur, Paris, July 2005
"Cocoons" (unattributed) Musee Du Louvre, Paris, June 2005
"Cocoons" (unattributed) Le Pantheon, Paris, July 2005
"Cocoons" (unattributed) Hotel De Ville, Paris, October 2005
"Eye Candy" (unattributed) Argentier, France, January 2007
COLLECTIONS
Steelcase Canada Ltd
Canadian Pacific/Fairmont | Le Chateaux Frontenac